Like it or not, house was first and foremost a direct descendant of disco.

You may be black, you may be white, you may be Jew, or entile. It don't make a difference in our house. -- Mr Fingers, Can U Feel It?, 1986
House

Stylistic origins:
Electro, Funk, Disco, Synthpop, R&B
Cultural origins:
1980s, New York, Chicago, United Kingdom
Typical instruments:
Synthesizer - Drum machine - Sequencer - Keyboard - Sampler
Mainstream popularity:
Large, especially late 1980s and early 1990s United Kingdom
Derivative forms:
Rave - Nu jazz - Madchester
Luke Dzierzek Interview



Young talent Luke Dzierzek has remixed this issue's coverstars Suicide Sports Club. DJmag.com catches up with one of dance music's brightest young stars
Words: Terry Church

Many aspiring DJs complain that the industry is a closed book, and that it's almost impossible for them to break through because old DJs refuse to retire.

But in 2005, lots of exciting new talent has emerged and 2006 looks like it could be the best ever year for new faces in dance music.

The recent success of 20-year-old producer Luke Dzierzek is proof that if you're talented and determined, it's highly possible to forge a career for yourself in dance music.

In the space of a few short months, Luke has established himself as one of dance music's brightest young stars, but his meteoric rise to the top isn't as sudden as you'd think.

Since the age of six, Luke has been immersed in music - he first learnt how to play the piano and drums, and when he discovered electronic music he started to experiment and make his own tracks.

"I first started listening to Global Underground compilations and it really opened my eyes to the wonderful world of dance music," says Dzierzek in his Kent accent (he lives with his parents in the "tranquil, boring village" of Farningham).

"At first I was into trance, which led onto progressive house, and then onto house and electro."

Luke's journey into dance music is a familiar one – a voyage that started off brash and accessible, but led on to more complex and more meaningful sounds as he got older.

Determined to produce top dance tunes, a couple of years ago Luke sent himself to Guildford's Academy of Contemporary Music in Surrey to study sound engineering.

"College was a really good experience and I learnt a lot about the business side of the music industry, but it wasn't really for me," he admits.

"They gave students a lot of opportunities such as remix work and DJ gigs, but I wanted to work for my trade, to get out there and fight for it."

So Luke, full of bravado and intuition, blagged himself work experience at progressive house record label Silver Planet.

When the label's directors heard Luke's music, they loved it and quickly signed him up for two singles.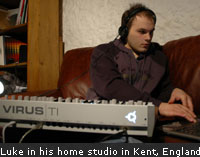 His first release with the label, 'One Day/Echo', marked a big change in direction for Silver Planet as Dzierzek's electro-house was innovative and completely different to anything the label had released before.

"It wasn't a conscious decision, we didn't think 'Oh we need to abandon progressive house'," says Silver Planet's Henriette Amiel.

"Luke's music was just strong, forward thinking music, and Silver Planet has always been about that."

Dzierzek isn't the only artist on Silver Planet's books who has released music other than the prog sound.

US trio Speedcats enjoyed huge success recently with their rock-influenced prog-breaks and electro tune 'Speedcats'.

"Both Luke and Speedcats make strong and innovative house music that has huge crossover potential," says Amiel.

"Trance DJs like Paul van Dyk and Eddie Halliwell are playing their tracks, as are DJs like Sasha and Digweed.

"The fact is the prog scene is getting smaller and smaller, and the popularity of Luke's sound is evidence that clubbers today expect more of an edge to their music."

Since 'One Day/Echo' Luke has carved a name for himself as one of dance music's hottest new producers, and has had a string of high-profile remixes and releases under his belt.

"It happened so quickly," he says.

"It's hard keeping my feet on the ground."

Luke Dzierzek's ongoing success is proof that dance music is still as evolutionary as it always was.

The fact that he's achieved so much before his 21st birthday is a sign that this is one lad who could be destined for greatness.
Luke Dzierzek's remix of Suicide Sports Club

One hot new remix that DJmag is particularly excited about is Luke's version of Suicide Sports Club's 'I Don't Know', on Bedrock offshoot B-Rock.

It's a storming electro house track, and will surely gain the producer even more fans.