DJmag.com catches up with the Norwegian pop starlet and DJ
Words: Terry Church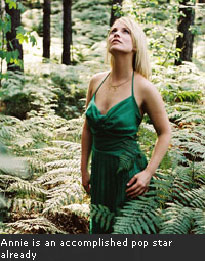 "I weally suck technicly," admits Annie, her words hampered by the throat lozenger stuck in her cheek.

The 26-year-old pop starlet and DJ has just returned from a gruelling US tour with some other Norwegian musicians - Röyksopp - and she's recovering from the ill effects of jet lag in her home in Bergen.

"I basically haven't slept for five days," she sniffles, "and tomorrow I'm off to Sweden to DJ."

She's right - technically 'DJ-Kicks', Annie's first DJ mix compilation, completely sucks.

"So my mixing isn't great, so what?" she asks, but before DJmag has time to suggest that maybe mixing is quite an important part of being a DJ, Annie answers her own question.

"There are two sorts of DJs - ones that are obsessed with doing perfect mixes, and ones like me, who only want to get people dancing by playing good records."
DJ Kicks

And that's what Annie's 'DJ-Kicks' album is all about.

Technically, it might not be the best thing you hear all year, but musically, it's quite an accomplishment.

"Originally I sent a massive list of all the records I wanted to put on the compilation to !K7 (the label behind 'DJ-Kicks')," says Annie.

"But then they sent it straight back and said most of the records I wanted to use were unavailable.

"So I spent four days locked in a cabin in Finland with two engineers, and we went through hundreds of my favourite tracks until we had found the right ones."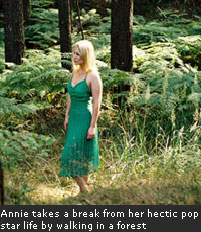 Annie's already a well-known singer/songwriter, but she's also been building a name for herself as a DJ since 2000 when she started her 'Pop Till You Drop' club night with a friend in Bergen.

For two years they successfully ran the club night together until Annie's solo career took over, and she found she had no time for anything except her singing.

"Doing things live requires more work"

"I love both DJing and live performing, but doing things live requires so much more work and dedication," reckons Annie.

"DJing is relaxing for me, because I don't have to think so much about what I'm doing.

"I just have to get people dancing," she says.

The way Annie and her friend used to get people dancing at her club night in Bergen was by playing a tremendously eclectic mix of music, anything from rock 'n' roll, to electro, new wave pop, disco, and house.

The only continuity running throughout her sets would be that the music would be "weird or different."

"The problem with me is that I get bored really quickly, so when I DJ I never stick to one genre for long.

"I like to keep sets interesting and random, but that's probably just for me," she says, with a giggle.

It's Annie's relaxed attitude to DJing that has gained her gigs all over the world, and at some rather high profile events too.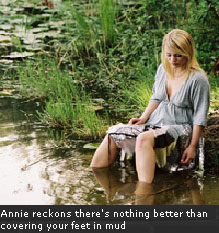 "I was once told to turn the music down during a set at an awards afterparty because Tina Turner was sleeping upstairs," she states audaciously.

"But I play music everyone likes, so if we had woken her, I'm sure she would have liked it anyway."

There is one obvious thing yet to mention: Annie is a girl, and most DJs aren't.

Female DJs

So has her gender helped or inhibited her DJ career?

"I think if anything, it's probably easier for girl DJs to break through," she says.

"When we used to run our club night we used to have guys coming up to us at the end of the night and say 'Shit, I've been dancing for three hours to a girl DJ', as though they should be ashamed of themselves."

Of course sex sells, and Annie, well, she's not exactly a minger.

But she's always been careful to stay on the right side of the sexual objectification/credibility divide.

Whilst pop tarts like Britney Spears and Christina Aguilira sell records by their sex symbol status alone, the cover of Annie's debut artist album 'Anniemal' featured the singer hiding her face, an alluring image of a pretty girl, but none too crass.

On this 'DJ-Kicks' compilation, Annie's form is again presented on the cover, but there's not a hint of sex because she's standing up to her waist in a pond.

She's clearly aware of her attractiveness, but is careful when using it - she did an online interview for Playboy, and managed to avoid the many pitfalls of working with the glamour industry - she kept her clothes on, and her answers were intelligent.

Even classifying Annie in the same category as Britney or the other one is entirely unfair because Annie's music would still sound great if she was 50kg heavier.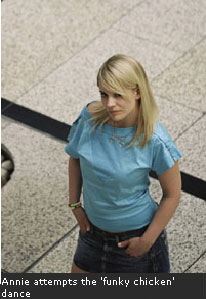 "I've always hung around with boys, so I'm more of a boy than a girly girl," she says.

DJmag believes Annie: then she admits that she doesn't fancy the thought of digital DJing because she likes "the nice big pictures on the covers" of vinyl.

Annie's Mix

Annie has approached her 'DJ-Kicks' mix in exactly the same way as her 'Pop Till You Drop' club night, and has slushed together 17 tracks that seemingly have absolutely nothing in common with each other, apart from the fact they're all a bit odd.

The CD starts with the wacky nursery-sounding Toy 'Rabbit Pushin Mover', before moving into the equally strange but wonderful 'I Wanna Be Your Lover' by La Bionda.

'Jukebox Babe' by Alan Vega sounds like a phonetically correct, but ultimately ridiculous karaoke singer attempting Elvis, and DJ Twitch's remix of Liquid Liquid 'Flextone' is bizarre to say the least.

Annie lends two of her own tracks to the mix, both 'Wedding' and 'Live Money' are funky and dancefloor orientated, she sings on both, making the mix unique to Annie.

The electro madness of Mu's 'Paris Hilton' (complete with chicken samples) confirms Annie's ability to locate dancefloor gems as well as good pop records, before Datarock's 'Fa Fa Fa' finishes the mix off.

Annie's 'DJ-Kicks' is out 17th October 2005 on !K7 Records.



www.anniemusic.co.uk