Like it or not, house was first and foremost a direct descendant of disco.

You may be black, you may be white, you may be Jew, or entile. It don't make a difference in our house. -- Mr Fingers, Can U Feel It?, 1986
House

Stylistic origins:
Electro, Funk, Disco, Synthpop, R&B
Cultural origins:
1980s, New York, Chicago, United Kingdom
Typical instruments:
Synthesizer - Drum machine - Sequencer - Keyboard - Sampler
Mainstream popularity:
Large, especially late 1980s and early 1990s United Kingdom
Derivative forms:
Rave - Nu jazz - Madchester
House Music Awards



Guetta cleans up, Tong wins 'Outstanding Contribution'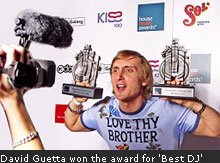 Words: Terry Church

David Guetta has emerged as the big success story of 2005 as he bagged three accolades at the House Music Awards at London's Hammersmith Palais, on Thursday 17 November.

The French DJ who's sponsored by cosmetics company L'Oreal won 'DJ of the Year', 'Best Live Set', and 'Stand Out Event' for his F*** Me I'm Famous party at Miami's Winter Music Conference.

Guetta's three awards prove that despite his controversial TV hair gel ads, he has still managed to retain his credibility as a talented DJ and producer.

Scottish producer Mylo was awarded 'Artist of the Year' and 'Album of the year' for his triumphant debut 'Destroy Rock 'n' Roll'.

The 26-year-old's label Breastfed also won 'Best Breakthrough Label'.

BBC Radio 1's admiral of dance – Pete Tong – received a special award for his 'Outstanding Contribution to House Music'.

The awards bash was hosted by The Cuban Brothers, and featured live performances from house music wailer Barbara Tucker (who won 'Best Live PA' and 'Outstanding Vocal Talent') and the Bodyrockers.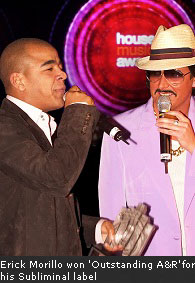 However, like any public vote, some of the results on the night were heavily contested.

In particular, Apple's mainstream-focussed digital download site iTunes won 'Best Download Site' despite it doing little to promote house music.
The List of Winners

Essential Selection Track Of The Year

- Blaze 'Most Precious Love' (Defected)



DJ Of The Year

- David Guetta



Label Of The Year

- Defected



Galaxy Artist Of The Year

- Mylo



Outstanding Remix

- Tiefschwartz - Spectrum 'Kinda New' (Playhouse/Non-Stop)



Album Of The Year

- Mylo - Destroy Rock & Roll



Most Innovovative Producer

- Martin Solveig



Breakthrough Producer

- Steve Angello



Breakthrough Label

- Breastfed



Breakthrough DJ

- Shapeshifters



Outstanding Vocal

- Barbara Tucker - Most Precious Love (King Street Sounds / Defected)



Best Club Night

- Defected In The House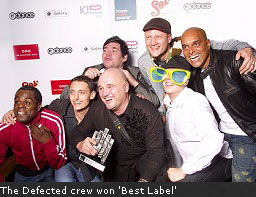 Sol Best Venue - Space, Ibiza



MTV Dance Best Video

- Basement Jaxx 'Oh My Gosh' (XL)



Festival Event Of The Year

- Creamfields



Best Live Set

- David Guetta at KissDaFunk



Best Live PA

- Barbara Tucker



Outstanding Radio Show

- Roger Sanchez, Release Yourself, Galaxy Network



Best Radio Station

- Radio 1Xtra



Best Web Resource

- DontStayIn.Com



Most Innovative Technology

- Pioneer DVJ-X1



Best Independent Store

- Juno



Standout Track WMC

- Audio Bullys Shot Me Down (Virgin)



Standout Event WMC

- F**k Me I'm Famous @ Mansion



Best Download Site

- iTunes



Best Mag

- Mixmag



Outstanding A&R

- Erick Morillo - Subliminal